Record Books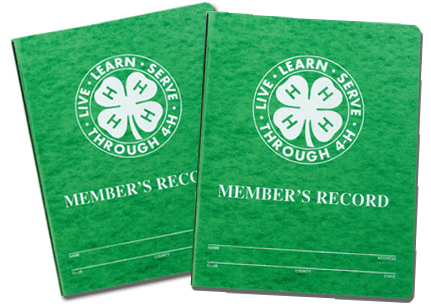 Why have 4-H record books? 4-H Record Books serve a variety of purposes in the Pawnee County 4-H program.
4-H Record Books give members an opportunity to reflect on their yearly work. They document their skill development and their learning experiences in a written report. 4-H members measure their achievements and growth in their total years in 4-H.
4-H Record Books encourage members to set goals, pursue strategies to meet those goals, and to shift gears in the face of challenges and obstacles. Completion of record books awards 4-H members for participation in 4-H activities, which provides an incentive for participation, learning, and achievement.
Completing a 4-H Record Book is a process where 4-H members record project and club work. Record management is a life skill to identify, create, classify, archive, and keep records. The 4-H Record Book teaches 4-H members these skills through a standard format.
Pawnee County Record Books
In Pawnee County, we use the Kansas Award Portfolio (KAP) Forms. The KAP forms are available on the State 4-H website. If you are not able to download the forms, we have a flashdrive with the current forms in the Extension Office. The Personal Page and Permanent Record can be found in the Record Keeping section.
Due dates will be announced 2015 as the time approaches. Record books can be turned in to your Club Leader or to the Extension Office.
Items that need to be turned in:
Personal Page
4-H Story
Permanent Record
KAP forms for projects
Member Achievement Pin Application

ages 11 & under: only 1 project KAP must be completed
ages 12 & up: 1 project KAP & 1 leadership KAP must be completed

Green form: Mark which awards you are applying for
Be sure the form is signed by a parent/guardian and your Club Leader
Make sure to read the list of awards that are available to Pawnee County 4-Hers to apply for from local award providers.
Other books that can be turned in:
Club notebooks: Secretary, Treasurer, Reporter
Achievement Pin Applications
Member Achievement Pin Applications are available on the State 4-H website. ***Pawnee County uses a different form for the Silver Guard Pin. Use this Silver Guard Application.*** Be sure to use the 2014-2015 applications. Next year, it will switch over. If you are not able to download or print these forms, we have hard copies available in the Extension Office.
The Key Award is one of the highest honors awarded to 4-H members across Kansas. We also have copies of this in the Extension Office for those who want to apply.